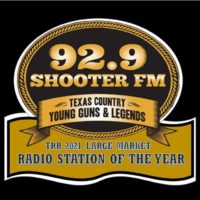 Shooter FM is the #1 station in Central Texas for Texas Country, Young Guns and Legends. Playing the Legends of Texas Red-Dirt Country like Gary P. Nunn, Jerry Jeff Walker, Michael Martin Murphy, Radney Foster, Tommy Alverson, Walt Wilkins, Lyle Lovett, Pat Green, Cory Morrow, Kevin Fowler, Randy Rogers  and Cody Canada.
Shooter FM gives the true Legends of Country their fair share of airplay too .. Merle Haggard, Waylon, Willie, David Allen Coe, Johnny Paycheck and George Strait.
The young Outlaws of Texas Country are right here as well .. Flatland Calvary, Randall King, Turnpike Troubadours, Jamie Richards, Phil Hamilton, Mike Ryan and Brandon Rhyder.
Kick back and enjoy a radio station that plays outside the lines!