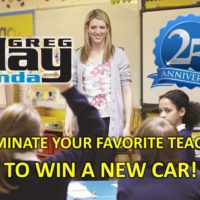 Greg May Honda is currently searching for an outstanding teacher to award a brand new 2021 Honda Accord EXL on Tuesday, November 10th in celebration of their 25th year in Waco.
They are accepting nominations from August 10th through Oct. 15th.
To submit your favorite teacher: Send a written letter to
Greg May Honda
Attn: My Favorite Teacher, 1601 W. Loop 340, Waco, TX 76712, drop it off in person, or email it to gmayhonda@aol.com.
Submissions will be reviewed by a panel of judges to determine one winner. The submission deadline is October 15th, 2020.
"You know one teacher can change someone's life. They can inspire you, make you believe in yourself, believe in your dreams and go after them with everything you've got," said Greg May. "Those are the stories we want to hear about."
Those who are interested in submitting your story can find complete details on our website, GregMayHonda.com, under #MYFAVORITETEACHER. The submission deadline is October 15th, 2020. Some submissions could appear on Greg May Honda's social media sites.
Click here for complete rules and more information.