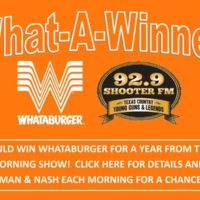 Listen and win with The Real Texas Morning Show with Crowman and Nash.  Weekday mornings from 6:00 am-10:00 am, listen for your chance to win a Taquito breakfast treat from Whatabuger.
Keep listening to 92.9 Shooter FM because you never know when Crowman and Nash are going to invite some lucky listener to breakfast!
Five lucky winners will be drawn for a Whataburger Little Orange Box with coupons for 52 free Whataburgers!
Other general contest rules may apply.