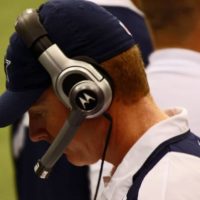 The New York Giants announced on Twitter they have fired offensive coordinator Jason Garrett midway through his second season with the franchise. Garrett's dismissal on Tuesday comes just one day after New York's offense was stymied by Tampa Bay in a 30–10 loss.
Coach Joe Judge confirmed the dismissal of Garrett on Tuesday, saying: "This is not a blame game. That's not what this is at all. I am not looking for a head to roll or worried about external opinions or perceptions. This is not a blame game. I am very appreciative of Jason for a lot of things he has done for us."  Judge said the coaching staff would combine to make an offensive game plan for the Sunday's matchup against the Philadelphia Eagles at MetLife Stadium. Judge was hired by the Giants in early January 2020, and one of his first moves was to hire Garrett, who had been let go by the Cowboys after 10 seasons as their head coach.
The Giants finished No. 31 in points scored last season, and they enter Week 12 at No. 24 in scoring in the 2021 season. New York scored 30 points just once in Garrett's tenure, a 37–34 loss to the Cowboys.
Editorial credit: Ken Durden / Shutterstock.com