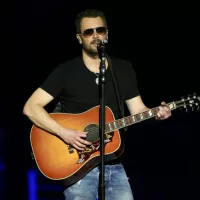 The Stagecoach Country Music Festival has announced the lineup for its 2024 edition, with Eric Church, Miranda Lambert and Morgan Wallen set to headline next year's event. 2024 Stagecoach will take place April 26-28 in Indio, Calif.
Said Church: "I can't wait to get back to the desert to play Stagecoach in 2024. It's going to be one hell of a party."  Lambert adds:  "There is something so special about playing music when the sun goes down in the middle of the desert. The fans, the setup, the location— there really is no other festival like it. My band and I have had the chance to experience the magic that is Stagecoach a few times now, and we can't wait to be back in 2024!"  And Wallen shared: "Stagecoach is such a legendary festival, and I am honored to be headlining the final night. I have so many friends who never miss it and I know this will be a monumental weekend for all of us. Can't wait to see everybody there."
Church will headline the April 26 shows, with Jelly Roll, Elle King, Dwight Yoakam, Carin León, Paul Cauthen and other artists to perform; Lambert will then take the stage April 27, along with Post Malone, Willie Nelson, Leon Bridges, Ernest, Charley Crocket, Luke Grimes and other performers; and Wallen will headline the April 28 shows, with Hardy, Bailey Zimmerman, the Beach Boys, Megan Moroney, Clint Black and other artists to perform. In addition, Nickelback, Diplo and Wiz Khalifa will take the stage during the Late Night in Palomino after-party.
Festival Tickets go on sale Friday, Sept. 15 11 a.m. PT, at the official Stagecoach website: here.
Eric Church, Miranda Lambert & Morgan Wallen To Headline 2024 Stagecoach Festival, Post Malone To Play Full Set Of Country Covers
Editorial credit: Debby Wong / Shutterstock.com