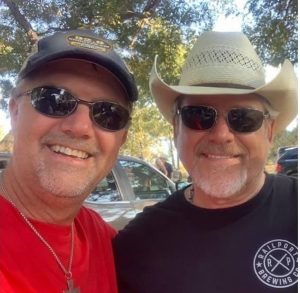 Real Texas Morning Show with Crowman & Nash
MONDAY to FRIDAY -- 06:00 AM - 10:00 AM
Crowman and Nash, Texas Red-Dirt Radio veterans bring you the best in Real Texas Country Music every morning! Wake up and have a laugh on them!
Crowman is a 5th generation Texan and says, ".. I was Born and raised in North Texas but I have very fond memories of spending my teenage years living with my Grandfather on his horse ranch in Poncha Springs Colorado, many life lessons learned there. Living a real western lifestyle helped me appreciate that lifestyle as well as real Country Music.
I have enjoyed promoting Texas Country Music for over 30 years with various shows bringing a fresh sound to your radio instead of the cookie cutter corporate country. This is Texas and Texas radio should sound like it!
Nash is a 30 year radio veteran with stops in OKC, Wichita Falls, Cleburne, Corsicana, and Burleson. Nash's father instilled the LOVE of Country music, at a VERY YOUNG age, and he knew then, what he wanted to do when he grew up.
He has compiled 7 Air Personality of the Year Awards, and as a Program Director, has won 3 Station of the Year awards. Nash started playing Texas/Red Dirt music on the radio in 1999, in a specialty show called "Honky Tonk Friday Night" in Wichita Falls, which eventually led him to Cleburne, to work with Mike Crow for the FIRST time. He has 4 kids, and 8 grand-kids, and in he spare time, he enjoys watching tv, traveling, and hanging out with friends and family.