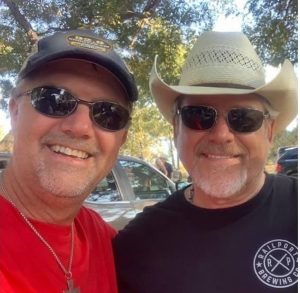 Real Texas Morning Show with Crowman & Nash
MONDAY to FRIDAY -- 06:00 AM - 10:00 AM
On AIR 6AM-10AM
Crowman and Nash, Texas Red-Dirt Radio veterans bring you the best in Real Texas Country Music every morning! Wake up and have a laugh on them!
Crowman is celebrating over 30 years playing Texas Music on the radio, Mike Crow, aka Crowman, is currently Co-Host of the "Real Texas Morning Show" as well as Program Director at 92.9 Shooter FM – Waco. Crowman also hosts his syndicated Texas Red-Dirt radio show "Sunday Morning Coming Down" heard on many stations across Texas, Oklahoma and the U.S.   Crowman's radio career goes back to 1986. Along the way he has created several Texas Music and Classic Country radio shows, and has interviewed thousands of country music stars and entertainers from Hal Ketchum to Pat Green, Willie Nelson to Garth Brooks. In 1987, Crow went to work at KBEC Radio in Waxahachie, and started his first Texas Music Radio Show, "Robert Earl Keen Jr was a newcomer and his playlist was composed of Maines Brothers, Jerry Jeff Walker, Austin Lounge Lizards, Michael Martin Murphy, Rusty Wier, Alvin Crow, Ray Wylie Hubbard, Asleep at The Wheel and lots of Waylon & Willie."   In 1993, while working at KSCS-Dallas, during Crowman's Honky Tonk Texas Show, Mickey Mantle called him to say he was listening. Crowman says, "being a huge Mickey Mantle fan as a kid that could be the highlight of my radio career right there!" In 1999 he created The Lone Star Morning Show on 92.1 KTFW in the Fort Woth Stockyards. The show was a mix of Texas Music, Classic Country and some new Traditional Top 40 Country. In 2007 as Director of Programming for Fort Worth's 95.9 The Ranch, Crowman guided the station's "Texas Music Revolution" programming 100% Texas music. Crowman loves hanging out with his three grandsons, ride his Harley or strum a few chords on his guitar. His love for Texas culture and western heritage dates back to when he was a kid growing up in Texas and spending several of his teenage years on his Grandfathers horse ranch in Colorado.
Nash is a 32 year radio veteran with stops in OKC, Wichita Falls, Cleburne, Corsicana, and Burleson. Nash's father instilled the LOVE of Country music, at a VERY YOUNG age, and he knew then, what he wanted to do when he grew up. He has compiled 9 Air Personality of the Year Awards, and as a Program Director, has won 3 Station of the Year awards. Nash started playing Texas/Red Dirt music on the radio in 1999, in a specialty show called "Honky Tonk Friday Night" in Wichita Falls, and is credited with being the first to play most of the Red Dirt bands from Oklahoma, including The Great Divide, Jason Boland & The Stragglers, Cross Canadian Ragweed, Stoney Larue, and Brandon Jenkins, on Texas radio. This  eventually led him to Cleburne, to work with Mike Crow for the FIRST time. Nash, and his wife Kim have 7 kids, and 13 grand-kids, in their blended family, and in his spare time, he enjoys watching TV, traveling, and hanging out with friends and family.